Auto Insurance Information brought to you by your South Florida Auto Accident Law Firm
Weinstein Law – Your Local Personal Injury and Car Accident Attorneys – Coral Springs, Boca Raton and surrounding areas.
While no one plans to get into an auto accident, they happen. Though it may be difficult to keep a clear and level head, it is important to understand what to do in the event of an accident to ensure that you protect your rights and your best interests. Below are general guidelines in the unfortunate event that you are in an accident.
First things first – there are some things you should always keep in your vehicle:
Proof of insurance
A first aid kit
Disposable camera
Flares and/or auto distress flag to place in the road and alert other drivers
Another good tip – know and understand your auto insurance policy before an accident happens. This will help you greatly if you are in an accident.
At the accident scene:
Remain calm and check for injuries. Immediately turn on your hazard lights.
Move vehicle only if it is blocking traffic or if you feel unsafe.
If there are injuries or damages, the police should be called. You'll need to report the accident and your insurance company will want a copy of that report.
Discuss the accident with the police only. It is important that you do not apologize, discuss the accident with or admit fault to the other driver.
If you or a passenger can do it, make notes about everything you remember about the accident occurring, and everything you are seeing at the scene. The more notes you take and the more details you can record, the better! Take pictures or make sketches of the accident scene.
Get names and phone numbers of any witnesses.
After the accident:
Accidents and the insurance claims that go with them can get extremely complex. If injuries were involved, and if any vehicle or property was damaged, it is in your best interest to quickly contact an attorney who specializes in auto accidents, auto insurance, and personal injury.
If you were injured, even if you believe the injuries are mild, get checked by a doctor as soon as possible.
Do not speak to anyone about your auto accident other than your insurance agent and even then, it's a good idea to have an attorney present or involved. Make notes during every conversation.
This information is provided as a general guideline. You are welcome to contact the Weinstein Law Firm or call us at (954) 757-7500 at any time to discuss your situation and ask any questions you may have. We will gladly answer your questions at no obligation or cost.
The Weinstein Law Firm represents those injured due to Auto Accidents and other types of Personal Injury in South Florida and South Florida communities including Coral Springs, Boca Raton and surrounding areas.
X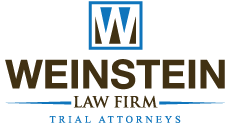 Personal Injury and Accident Attorneys
Contact Us for a Free Case Evaluation!
(954)-757-7500
1515 North University Drive, Suite 103, Coral Springs, FL 33071
Email: info@weinstein-law.com -
Phone: 954-757-7500 - Fax: 954-757-8660
Boca Raton Satellite Office:
2385 Executive Center Drive, Suite 100
Boca Raton, FL 33431
Fort Lauderdale Satellite Office:
12 Southeast 7th Street, Suite 713
Fort Lauderdale, FL 33301