Jacki Young is the Pre-Litigation and Post-Settlement Legal Assistant for the Weinstein Law Firm. She is also Client Relations Director for the firm, making her the point of contact for new clients. With her prior experience in Insurance Defense, she proves to be a strong asset. Born and raised in South Florida, Jacki enjoys music, reading, traveling, watching movies, going to the beach, and being with friends and family during her free time.
X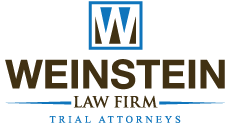 Personal Injury and Accident Attorneys
Contact Us for a Free Case Evaluation!
(954)-757-7500
1515 North University Drive, Suite 103, Coral Springs, FL 33071
Email: info@weinstein-law.com -
Phone: 954-757-7500 - Fax: 954-757-8660
Boca Raton Satellite Office:
2385 Executive Center Drive, Suite 100
Boca Raton, FL 33431
Fort Lauderdale Satellite Office:
12 Southeast 7th Street, Suite 713
Fort Lauderdale, FL 33301