A Florida native, Allie Beeman was born and raised in Key West. Allie is a Legal Assistant at the Weinstein Law Firm working in both the Personal Injury Protection and Bodily Injury departments. She recently graduated Magna Cum Laude from The University of Central Florida where she majored in Political Science and minored in Legal Studies and Crime, Law, and Deviance. In her free time, Allie enjoys yoga, traveling, baking, and spending time with her family.
X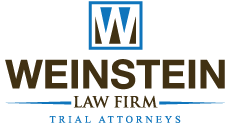 Personal Injury and Accident Attorneys
Contact Us for a Free Case Evaluation!
(954)-757-7500
1515 North University Drive, Suite 103, Coral Springs, FL 33071
Email: info@weinstein-law.com -
Phone: 954-757-7500 - Fax: 954-757-8660
Boca Raton Satellite Office:
2385 Executive Center Drive, Suite 100
Boca Raton, FL 33431
Fort Lauderdale Satellite Office:
12 Southeast 7th Street, Suite 713
Fort Lauderdale, FL 33301