Coral Springs and Broward County Personal Injury Attorneys, Supporting the Community
The Weinstein Law Firm – Community Page
Coral Springs and Broward County are places that the Weinstein Law Firm calls home. We recognize the value of a strong community and good neighbors, and we strive to make our area a better place to live and work. We also take pride in serving our community by upholding citizens' rights and holding wrongdoers accountable for their actions.
As a law firm, our mission is to pursue justice and protect those who have been harmed by large corporations, insurance companies and others who have caused harm or injury to innocent victims. As a neighbor and fellow community member, our goals are similar: Identify the needs of our surrounding towns and communities while making a difference through support and leadership.
The Weinstein Law Firm supports numerous organizations and causes in the South Florida region. Managing partner and attorney Andrew Weinstein is deeply involved in industry-related change and holds a number of leadership roles in organizations designed to protect the needs and interests of the public. He devotes both time and energy to many causes, and he is known locally and nationally for his efforts, contributions and level of commitment.
Please take a moment to learn more about our supported organizations, and we encourage you to make a difference in the community in which you reside.
Organizations we Support

Toy Drive at the Children's World of Margate

 
 

Political Involvement

 
 
 
 
X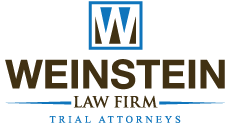 Personal Injury and Accident Attorneys
Contact Us for a Free Case Evaluation!
(954)-757-7500
1515 North University Drive, Suite 103, Coral Springs, FL 33071
Email: info@weinstein-law.com -
Phone: 954-757-7500 - Fax: 954-757-8660
Boca Raton Satellite Office:
2385 Executive Center Drive, Suite 100
Boca Raton, FL 33431
Fort Lauderdale Satellite Office:
12 Southeast 7th Street, Suite 713
Fort Lauderdale, FL 33301