Your Local Personal Injury Law Firm
Thank you for your interest in the Weinstein Law Firm. Our staff members are here to serve your legal needs, including personal injury, auto accident, premises liability and defective products cases. We also serve health care providers requiring assistance in pursuing insurance claims and other disputes. We are dedicated to client service and welcome you to learn more about us here:
X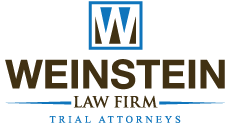 Personal Injury and Accident Attorneys
Contact Us for a Free Case Evaluation!
(954)-757-7500
1515 North University Drive, Suite 103, Coral Springs, FL 33071
Email: info@weinstein-law.com -
Phone: 954-757-7500 - Fax: 954-757-8660
Boca Raton Satellite Office:
2385 Executive Center Drive, Suite 100
Boca Raton, FL 33431
Fort Lauderdale Satellite Office:
12 Southeast 7th Street, Suite 713
Fort Lauderdale, FL 33301