With more than seven years of experience as a Defense Paralegal, Jennifer Cacace serves as a Paralegal at the Weinstein Law Firm handling PIP cases. Born and raised in New York, she received her Bachelors of Criminal Science and Masters in Education – making the Dean's List as well. She continued her education at CW Post NY and obtained her Paralegal Certificate. Jennifer is a member of the American Bar Association and is actively involved in the Parkland Mom's Club where she is able to spend time with her son as well as give back to local charities. 
X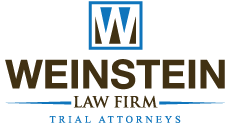 Personal Injury and Accident Attorneys
Contact Us for a Free Case Evaluation!
(954)-757-7500
1515 North University Drive, Suite 103, Coral Springs, FL 33071
Email: info@weinstein-law.com -
Phone: 954-757-7500 - Fax: 954-757-8660
Boca Raton Satellite Office:
2385 Executive Center Drive, Suite 100
Boca Raton, FL 33431
Fort Lauderdale Satellite Office:
12 Southeast 7th Street, Suite 713
Fort Lauderdale, FL 33301